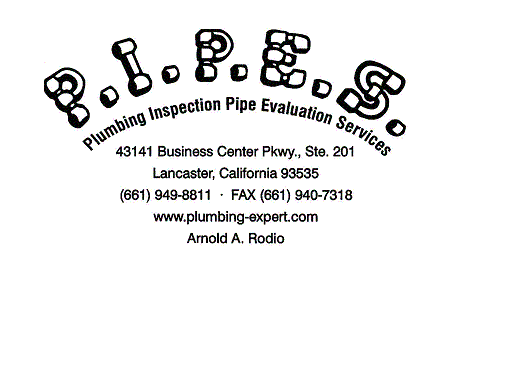 P.I.P.E.S., Plumbing Inspection Pipe Evaluation Services, is a full range plumbing forensic company. Although our primary office is located at 43141 Business Center Parkway, Lancaster CA; we travel throughout all western states evaluating different plumbing issues.. Arnold A. Rodio (Arnie) has been accepted and certified as an expert by numerous courts and has been involved in the plumbing industry as a licensed contractor for over 25 years. With this extensive experience and knowledge, we provide top quality service in a timely manner.


Provide services such as:
Evaluation of Plumbing and Piping Systems
Code Compliance Evaluation
Standard of Care
Custom and Practice of the Industry
Cost Analysis, Evaluation and Review Remediation
Cost Estimation
Materials Suitability
Construction Sequence
Performance Review
Main Line Utility Systems such as Water and Sewer in Public Right of Way
Hazard Evaluation (personal injury)
Such services are provided to individuals, insurance companies, and Attorney's as litigation support for both Plaintiff or Defense.
P.I.P.E.S (Arnold A. Rodio) is dedicated to providing honest and accurate evaluations of all components and phases of plumbing, piping systems. All evaluations are available in the form of a complete report, accompanied by full documentation, photos, isometrics and code references when applicable and requested by client.
In addition to site inspections and litigation support services, P.I.P.E.S. offers a full range of:
Destructive Testing
Pipe Sampling and Replacement
Remedial Services through
Sub-Contractor Pace Setter Plumbing Corp.
Video Taping
Boroscope Inspection
Computer Data Base Analysis
Photographic Documentation, (internal and external) of piping and plumbing systems.
Full color Isometrics and layout of affected pipe



P.I.P.E.S. strives to reduce costs and simplify scheduling for the client. P.I.P.E.S. is equipped to perform complete inspections; including the removal and replacement of drywall, cutting concrete, documenting the findings; securing samples; and returning the unit or home to the original condition; followed by the evaluation of the acquired data and repair recommendation (if necessary). Cost estimates of remediation and supervision of, or conducting remediation based on cost estimates and documentation of recommendations for permanent record if needed is also available.
Should you require immediate service contact our office directly; or email may be sent to:

For your convienence, you will find a current CV/Resume for Arnold A. Rodio, located on our Home page for your review.
Should you wish to speak with us regarding a specific issue or case, please contact our office and your call will be addressed immediately by our office personnel. We sincerely look forward to hearing from you in the near future.